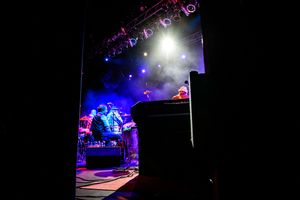 Contact: booking@peacheaters.com
Or call: 
508.641.0858 (Alec)
The Vibe
From Ain't Wastin' Time No More to Whippin' Post, The Peacheaters dig deep into the Allman Brothers Band's 4+ decades of music and deliver an authentic experience that keeps the vibe alive.  
The Band
Alec Antobenedetto (drums/vocals)
Rick "The Senator" Goode (lead guitar/vocals)
Jim Sullivan (keyboards)
AJ Vallee (drums/percussion)
Dave Hines (bass)
Special Guests:
Mike O'Connell (vocals, guitar)
Gary Backstrom (lead guitar, vocals)
Peter Wise (percussion)
David Cournoyer (guitar, vocals)
MEET THE PEACH
PRESS
"The best Allmans tribute band you will see."
— Carter Alan, WZLX-Boston's legendary DJ
"The Peacheaters roar through Allman Brothers Favorites."
—Steve Morse, The Boston Globe
Peacheaters review at Jerry Jam 2015

Tony Beers: Unfortunately I was driving and getting a bit lost so I didn't arrive until Cats Under the Stars (feat. Melvin Seals) was finishing there last couple of songs, but I did get to see the Peacheaters who blew me away when I wasn't expecting much that could–after driving nearly a thousand miles getting there, I was tired. All the band members were proficient, but the Peacheaters have one very special feature worth noting in their gifted guitarist Rick Goode. I got a chance to speak briefly with Goode after their set. I said that it was a pleasure to watch someone with such command of their instrument. The speed with which he moved expertly over his fretboard while covering some of the Grateful Dead tunes reminded me of Jeff Mattson of Zen Tricksters and now of Dark Star Orchestra and on other covers I saw licks Duane Allman would be proud of! Look around for these Peacheaters playing, they will blow you away!